What is a hot spring?
A hot spring is where warm or hot water issues from the ground and the source of the water is 25 degrees or more centigrade or it contains certain minerals. The health benefits vary depending on the minerals contained, but in general hot springs are said to relieve fatigue and facilitate recovery from illness and injury.
Are there any precautions?
Shampoo, body soap and hair dryers are provided.
Before getting into the bath, please rinse your body off. When you wash your body, do so outside of the bath.
Please do not put towels into the hot spring water.
The bath is slippery, so please be careful.

What is kaiseki cuisine?
Kaiseki is a full-course Japanese-style dinner which combines fried foods, fish and meat with seasonal foods. Not only is the utmost care taken in the preparation of each item on the menu, but the layout and dishes are also carefully selected to create a work of culinary art that can be visually enjoyed as well.
Are there any precautions?
If there is a Japanese dish that you cannot eat, please notify us before the meal is prepared and we will substitute a different item.

What kinds of rooms do you have?
Our rooms are Japanese-style rooms. The floors are covered with tatami mats like you would find in a traditional Japanese home. Japanese-style rooms are characterized by alcoves and sliding doors.
Are there any precautions?
Please remove your slippers before walking on the tatami mats. Package A rooms have beds. Package B rooms do not have beds, but we will bring futon mats at the designated time. Please help yourself to the snacks and tea in your room. They are provided free of charge.

Are there any other precautions?
・Tips are unnecessary.
・Please leave your key at the front desk when you go to the common bath or leave the hotel.
・The water from the tap is safe to drink.



Reservations



Basic Information

211 Yumoto Chaya, Hakone-machi, Ashigara-kun, Kanagawa Prefecture


TEL: 0460-85-6271 FAX: 0460-85-8184


Email:okuyumoto@jp.magicalgate.net


Directions

Check-in: 15:00-18:00


Check-out: 10:00


Credit cards accepted:


VISA, MasterCard, DC, JCB, AmericanExpress

Open-air Bath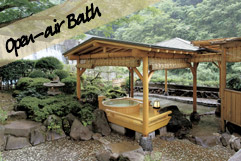 "Fujinoyu" - There are two types of bath: stone and cypress. The pleasant sound of a mountain stream that flows to the Sukumo River can be heard from the open-air bath. Relax and enjoy the peacefulness until your heart's content.

Room (Package A)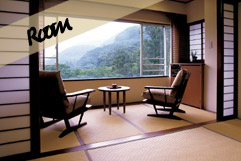 Large, remodeled Japanese-style rooms on the 7 floor with Japanese beds and salons. You will be served seasonal kaiseki cuisine at your room.