Directions

 View Large Map
About a 10-minute ride on the Ryokan Kumiai Shuttle Bus from Hakone Yumoto Station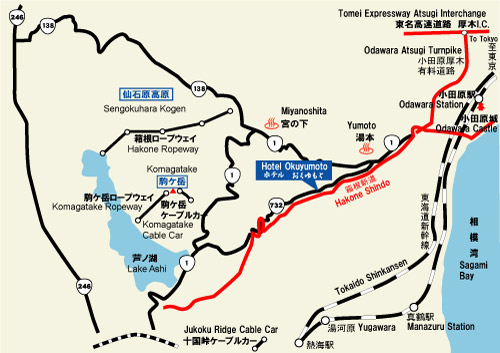 ・By Train
Tokyo Route Map
From Tokyo
Shinjuku Station»»»Odakyu "Romancecar" (90 min.)»»»Hakone Yumoto Station
Tokyo Station»»»Tokaido Shinkansen (40 min.)»»»Odawara»»»Hakone Tozan Railway (15 min.)»»»Hakone Yumoto Station
From Nagoya
Nagoya Station»»»Tokaido Shinkansen»»»Odawara»»»Hakone Tozan Railway (15 min.)»»»Hakone Yumoto Station
Hakone Yumoto Station»»»Ryokan Kumiai Shuttle Bus (about a 10-minute ride on the B-Course towards Soun Dori)»»»Hotel
・By Taxi
Taxi Stand Map
If you ride a taxi from Hakone Yumoto Station, tell the driver you would like to go to "Hotel Okuyumoto." The fare will be around 1,000 yen.
・By Bus
Bus Stop Map
Ryokan Kumiai Shuttle Bus
Every hour in the afternoon at 15 and 45 minutes past the hour. Last bus is at 17:55.
Take the B-Course (Toward Soun Dori). The fare is 100 yen.
Hakone Yumoto Station»»»Ryokan Kumiai Shuttle Bus (about a 10-minute ride on the B-Course towards Soun Dori)»»»Hotel
Area Information



Hakone Town Tourist Information http://www.hakone.or.jp/index.html

 Lake Ashi


Lake Ashi is a long and narrow body of water with a circumference of 20 kilometers and is believed to have been formed in the caldera of Hakone Volcano some 400 thousand years ago. The inverted reflection of Mt. Fuji on the water, which can be seen from Suginamiki Road on the south shore of the lake, is one of Hakone's most glorious sights.

 Mt. Fuji


Mt. Fuji is the tallest mountain in Japan and is a national symbol, which should definitely be part of your sightseeing itinerary. Its countenance changes with the seasons.
(This photograph was taken from the shore of Lake Ashi.)


Reservations



Basic Information

211 Yumoto Chaya, Hakone-machi, Ashigara-kun, Kanagawa Prefecture


TEL: 0460-85-6271 FAX: 0460-85-8184


Email:okuyumoto@jp.magicalgate.net


Directions

Check-in: 15:00-18:00


Check-out: 10:00


Credit cards accepted:


VISA, MasterCard, DC, JCB, AmericanExpress

Open-air Bath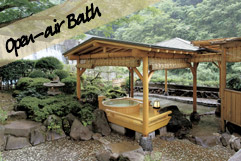 "Fujinoyu" - There are two types of bath: stone and cypress. The pleasant sound of a mountain stream that flows to the Sukumo River can be heard from the open-air bath. Relax and enjoy the peacefulness until your heart's content.

Room (Package A)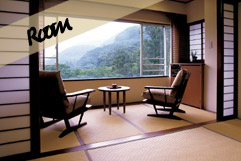 Large, remodeled Japanese-style rooms on the 7 floor with Japanese beds and salons. You will be served seasonal kaiseki cuisine at your room.